Customer Reviews
01/19/2020
Helene L.
Canada
Change in initial order
Good morning, I made a mistake in my original order, one letter to be changed only. Somehow even with order no., you could not find it. It took at least 9 emails before you understood what had to be done. The change to be made was from Le to La. , one letter only. Apart from that, my brother loved his gift. I should do business again with you but I will make sure I do not make a typo.
01/10/2020
Jessica T.
New Zealand
Amazing!
Great, it was a present for my in-laws and my mother-in-law cried which was the reaction I was hoping for.
12/28/2019
Jenae C.
United States
Best Gift Ever
This opportunity allowed for a meaningful birthday and Christmas gift this year. Each person I made a star map for, believed it was thoughtful and absolutely LOVED it!!!
12/17/2019
Leah A.
Australia
18th Birthday present
I couldn't think of what to buy my bestfriend's daughter for her 18th birthday, made more difficult as she is an incredible young person who deserved something really special. A Star Map of the night and location she was born, printed on canvas, turned out to be the perfect present- she absolutely adored it, as did everyone else at her 18th birthday party.... Thank you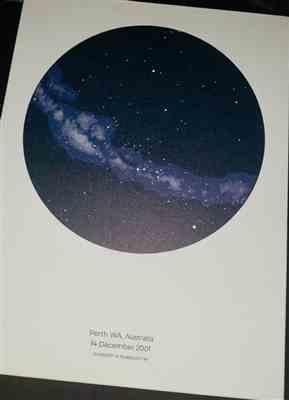 12/04/2019
Maria C.
Brazil
Starmap from Brazil
Great! Loved the result.